Sports
Al-Nasa vs. Istick LOL in AFC Champions League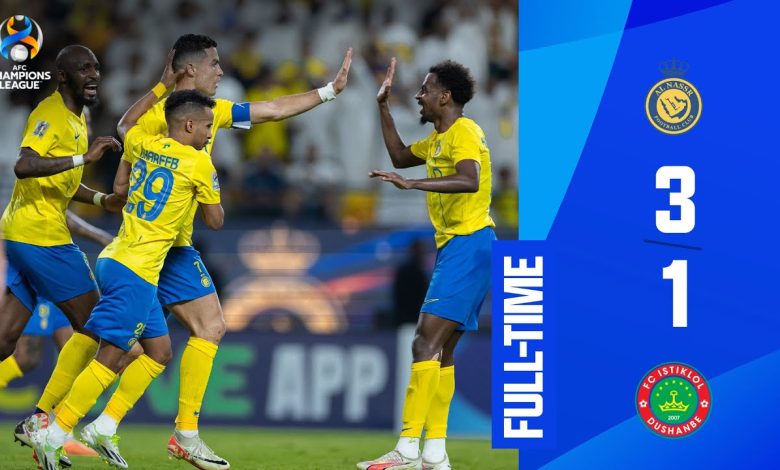 The AFC Champions League witnessed an intense showdown between Al-Nasa and Istick LOL on matchday one. This encounter was eagerly anticipated, and it didn't disappoint. Both teams displayed remarkable skills and determination throughout the game, making it an enthralling contest for football fans worldwide.
Lineup and Early Pressure
Al-Nasa entered the match with a strong lineup, led by the illustrious Cristiano Ronaldo. Istick LOL, on the other hand, hoped to create opportunities against their formidable opponents. In the initial stages of the game, Al-Nasa applied early pressure, but Istick LOL's defense stood strong, frustrating their opponents. The first 25 minutes showcased solid defending from Istick LOL, setting the stage for an intriguing battle.
Ronaldo's Close Call
As the match progressed, Cristiano Ronaldo, the football legend, sought his first AFC Champions League goal. The anticipation was palpable when a sublime pass from Taliska found Ronaldo, but the ball narrowly eluded him. Al-Nasa inched closer to breaking the deadlock, but Istick LOL's goalkeeper, Yatimov, made some crucial saves to keep his team in the game.
Shocking Turn of Events
In a dramatic turn of events, deep into stoppage time at the end of the first half, Alhanam delivered a cross to Taliska, whose header was met with another outstanding save from Yatimov. Against all odds, Istick LOL managed to take a surprising 1-0 lead into halftime, capitalizing on their only attempt.
Al-Nasa's Second-Half Push
Al-Nasa continued their relentless pursuit of an equalizer in the second half. They applied pressure, sending crosses into the box and testing Yatimov time and again. It seemed like an uphill battle for Al-Nasa as they struggled to break through Istick LOL's defense.
Ronaldo Breaks the Ice
The moment everyone had been waiting for arrived in the 66th minute when Ronaldo, after a lovely ball through, scored his first AFC Champions League goal. Yatimov was finally beaten, and the score was level at 1-1. With over 20 minutes left, Al-Nasa had their sights set on a victory.
Al-Nasa's Late Surge
Al-Nasa seized the momentum after Ronaldo's equalizer. A flurry of goals followed, starting with a header from Taliska, making it 2-1 in favor of Al-Nasa. The excitement was palpable as the team from Al-Nasa turned the game around in just over five minutes.
Harib's Brilliance
A moment of brilliance came from Harib, who embarked on a fantastic run, capping it off with a thunderous first-time finish from Talisco. This remarkable goal gave Al-Nasa a commanding 3-1 lead, leaving Istick LOL with a mountain to climb.
Late Chances
Istick LOL made a late surge to narrow the gap but couldn't capitalize on their opportunities. Suleimanov and Ronaldo had chances, but Al-Nasa's defense held firm. The match ended with a 3-1 victory for Al-Nasa, who now lead Group E with maximum points, while Istick LOL find themselves at the bottom with just one point.
In a few weeks' time, football enthusiasts can look forward to the clash between Al-Nasa and Alduhale, while Istick LOL will face Pezepolis. This thrilling match between Al-Nasa and Istick LOL will be remembered for its twists and turns, showcasing the unpredictability and excitement of the AFC Champions League.