Business
China's Unfolding Crisis Sparks Concerns in Real Estate Sector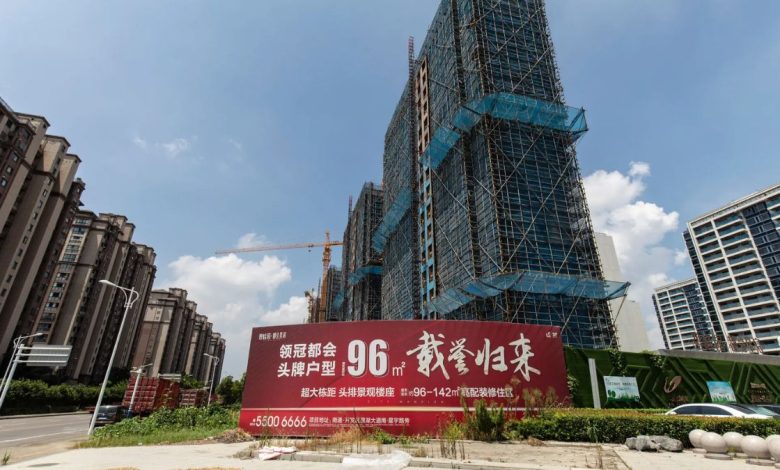 In recent weeks, China Evergrande, the world's most debt-laden real estate developer, has been hit by a wave of crises that have sent shockwaves through the real estate industry. The unfolding drama has far-reaching implications not only for Evergrande itself but also for the broader Chinese property market. In this article, we will delve into the key developments and their potential impact.
Evergrande's Troubling Woes
China Evergrande had been attempting to resolve financial disputes with its creditors until a series of alarming events unraveled its plans. Authorities detained staff at the company's wealth management arm, including two former top executives. Meanwhile, the billionaire chairman, Hui Ka Yan, has come under police surveillance. These events triggered a mass exodus of investors, resulting in a staggering 40 percent drop in the company's already beleaguered stock over the past week.
Adding to the turmoil, Evergrande abruptly suspended trading in the stock of its three publicly traded companies in Hong Kong, providing no immediate explanation. The company later confirmed that Chairman Hui Ka Yan had been subjected to "mandatory measures" due to suspicion of "illegal crimes," with shares remaining untradeable "until further notice." The lack of transparency surrounding these developments has left investors grappling for information.
Impact on China's Real Estate Landscape
The rapid escalation of events at Evergrande has intensified pressure on Beijing policymakers already dealing with a property crisis. Two years ago, Evergrande's massive $300 billion debt default sent shockwaves worldwide. Now, with its troubles resurfacing, the company's inability to resolve issues with its lenders casts a shadow over China's real estate sector, which is already showing signs of insolvency.
The uncertainty surrounding Evergrande's fate, coupled with the defaults of numerous other developers over the past two years, raises concerns about the broader real estate industry. Another major player, Country Garden, reported a $7.3 billion loss in the first half of the year and is working diligently to settle its debts with bondholders.
Investor Sentiment and Market Impact
Sandra Chow, co-head of Asia-Pacific research at CreditSights, aptly points out that these developments "raise more questions than answers" and further deteriorate sentiment in the already troubled property sector. Chinese real estate stocks have plummeted, reaching multiyear lows. Home buyers are wary, and even foreign investors who extended loans to Chinese developers are losing confidence in repayment.
China's housing market, once reliant on borrowing, has been struggling since Beijing clamped down on excessive debt by real estate companies. Evergrande's default in 2021 was just the beginning, with dozens of private developers following suit. This raised concerns about China's broader economic stability, traditionally intertwined with the property market's growth.
Beijing's Efforts to Stabilize the Market
Earlier this year, as China emerged from pandemic lockdowns, optimism prevailed that developers would recover, fueled by new home sales and creditor negotiations. Investors traded defaulted developers' bonds, hoping for profit once debt issues were resolved. However, the housing market took a hit in recent months, with apartment sales plummeting.
Beijing has introduced measures to bolster the real estate market, such as lowering mortgage rates and relaxing home purchase restrictions in major cities. Regrettably, these efforts have not reversed the deep-seated pessimism among Chinese households, which remain cautious about spending. Some developers, like China Oceanwide, face court-ordered liquidation due to impatient overseas creditors. Evergrande's sales have fallen short of expectations, bringing it closer to potential liquidation.
Creditor Concerns and Sector Viability
The struggles of Evergrande and other developers have revealed systemic issues within China's financial system. Long characterized by unchecked borrowing, unbridled expansion, and occasional corruption, the system has come under regulatory scrutiny. Evergrande's poor corporate governance stands out, as it pressured its own employees into lending money through its wealth management unit when faced with a cash crunch.
With negotiations stalling for repaying foreign creditors and growing creditor pessimism, a significant source of funding for Chinese companies is drying up. Alicia García-Herrero, the chief economist for Asia-Pacific at Natixis, highlights that "the door is shutting for Chinese companies to issue debt overseas." For Chinese businesses to expand, they will need overseas investments, but most investors are now hesitant.
In conclusion, China's unfolding crisis has sent shockwaves through the real estate sector, raising concerns about broader economic stability. As the situation continues to evolve, policymakers and investors alike are closely watching, hoping for a resolution that can stabilize China's property market once more.