Sports
Deion Sanders and Colorado Host Caleb Williams for a Thrilling Pac-12 Showdown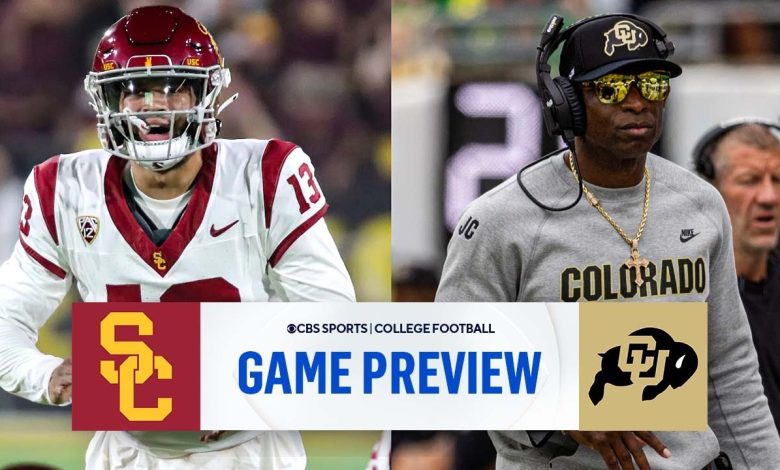 In this captivating CBS Sports preview, we delve into the highly anticipated Pac-12 showdown between Deion Sanders' Colorado and Caleb Williams' USC. Two formidable quarterbacks, Shedeur Sanders and Caleb Williams, are set to grace the field, igniting a fiery quarterback battle. In this article, we will dissect the key factors and strategies surrounding this thrilling matchup.
Analyzing the Quarterback Duel
Shedeur Sanders' Approach
Shedeur Sanders, a talented quarterback, has been making waves in the game. However, his recent performances have raised questions. One particular concern is his tendency to hold onto the ball for an extended period. While he consistently fills up the stat sheet, Sanders faces a challenge with a depleted wide receiver corps. Several key players are nursing significant injuries, and even if they do take the field, they might not be at 100 percent. In this context, waiting for the wide receivers to get open becomes a risky strategy, especially against the formidable USC defense.
To succeed in this matchup, Shedeur Sanders must adapt his approach. Quick decision-making and precise throws should be his priorities. USC boasts a formidable pass rush, and holding onto the ball too long will invite trouble. Colorado's fast-paced style of play should encourage Sanders to release the ball promptly, exploiting any weaknesses in the USC defense.
Caleb Williams' Perspective
Caleb Williams, on the other hand, finds himself in an intriguing position. Despite a spectacular season, he appears to be falling behind in the Heisman race. Stepping into hostile territory to face the Buffs, Williams must play with a chip on his shoulder. He has a history of entering games with a fiery edge, and this high-stakes matchup is no exception.
Williams has been nothing short of exceptional this season, leading the nation in passing efficiency and boasting the highest drop-back touchdown rate. He is still the same dynamic player who won the Heisman, and this game provides the perfect stage to showcase his skills on a national level.
It's worth noting that Williams, like Shedeur Sanders, has a tendency to hold onto the ball. However, his style resembles that of Patrick Mahomes, as he hovers around the pocket, waiting for opportunities to arise before delivering the ball downfield from unconventional angles. This quarterback duel promises to be a thrilling clash of contrasting styles.
The Spotlight on USC
USC, up to this point, has not played a game that has garnered national attention. Facing Deion Sanders and the Buffs, they find themselves under the spotlight. Caleb Williams, with his exceptional performance, will undoubtedly attract the attention he deserves. This game offers USC a chance to prove its mettle and make a statement on the national stage.
In conclusion, the showdown between Deion Sanders' Colorado and Caleb Williams' USC is set to be a quarterback battle for the ages. Both Shedeur Sanders and Caleb Williams have their unique styles and strengths, and this matchup promises fireworks. As the nation watches, it's an opportunity for USC to shine and for Williams to reaffirm his Heisman candidacy. The stage is set, and football enthusiasts can't afford to miss this thrilling encounter.