Sports
Deion Sanders: Unveiling His Influences, Colorado, Caleb Williams, USC, and More | Big Noon Kickoff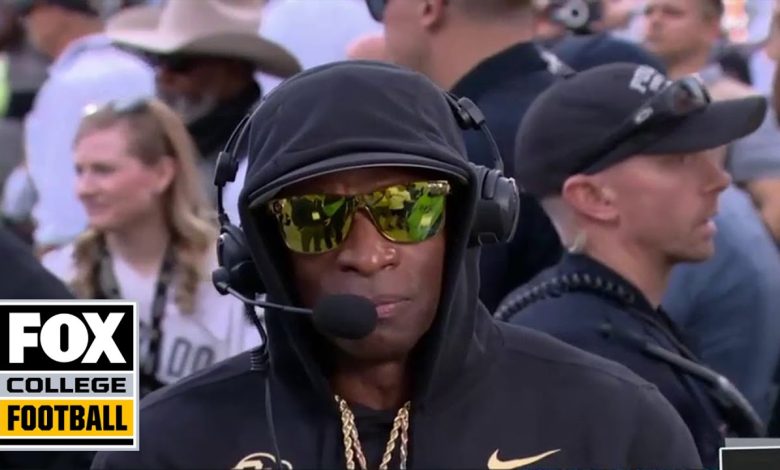 In the heart of Boulder, the highly anticipated moment has arrived as we take you live to the vibrant atmosphere of Folsom Field. Coach Prime, looking remarkably sharp this morning, graciously joins us on the field. Coach, you mentioned earlier today that you don't usually look this good. Well, today, you look absolutely fantastic. It's a pleasure to have you with us again. I have a burning question for you: everyone, including coaches, has mentors. This is a prestigious program and a significant opportunity for you. Who are the guiding lights on your journey?
Coach Prime begins, When it comes to football, I can always pick up the phone and connect with Coach Saban, the paragon of excellence in this field. Mike Zimmer has been a crucial presence in my life. And then there are remarkable individuals like Willie Taggart, Pat Shurmur, and Dennis Thurman, each contributing their exceptional wisdom and relational skills to enrich my journey. We have an extraordinary in-house support system. Mickey Andrews and Coach 'X' also provide valuable insights. It's a blessing to have so many people to learn from."
"Thank you, Coach Prime. Caleb Williams and USC's offense pose a formidable challenge today. How do you plan to slow them down?" asks Mark Ingram.
Coach responds, "The key is in the details. Most of their explosive plays happen due to breakdowns in coverage or players not executing their roles. We need to be fundamentally sound, stay disciplined, and focus on one play at a time. Doing your job is crucial. On the flip side, we must protect our quarterback while allowing our playmakers to shine."
Coach Mark Ingram chimes in again: "I know how meticulous you are about appearances when I visit Colorado. Everyone over there believes in you and the team, but there are still doubters. What's your message for those who doubt your vision?"
Coach Prime reassures, "Doubters and naysayers are part of the game. We are committed to consistency and our long-term vision. This journey is a marathon, not a sprint. I want to make it clear: we are here for the long haul. Our recruits, coaching staff, and philosophy are top-notch. So, believe me, success is not far off."
Brady, the next question comes your way: "After our first loss this season, what was your message to the team? How are you getting them back in the groove for this upcoming match?"
Coach Prime responds pragmatically, "We're moving forward. Dwelling on past losses won't help us. We're putting that behind us, learning from it, and focusing on the next challenge. Our eyes are on the prize, and we're determined to bounce back stronger."
As Coach Prime aims to become the first Colorado head coach to conquer USC, his smile radiates confidence. We extend our heartfelt thanks for joining us today. Indeed, he is one of the best in the game.